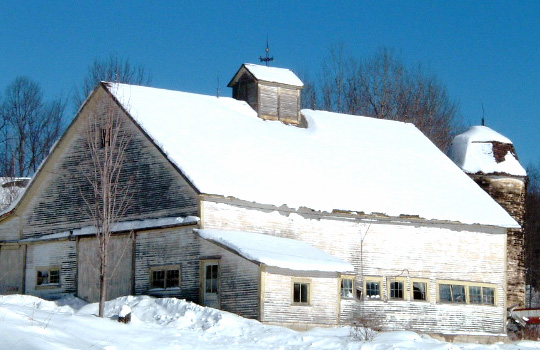 The original farm of 90 acres dates back to 1795 when the land was first settled by Samuel and Sally Cook. They were Quakers and they and their descendants were well educated and progressive and - with up-to date-equipment - were successful farmers. They were also community leaders, often elected as town selectmen or state representatives. They frequently served as town clerk or town treasurer. One grandson joined the Anti-Slavery Society, traveled to London, married there, moved back to Mount Holly with his wife and built one of the elegant houses for which the Cooks were known. The 1923 house, next to this barn, has Art Deco features inside and out.
The Dunwoody Barn Story
---
Gable-end entrance, high doorway for hay wagon entry; rolling door.
Attached milk house (on right or milking side of barn)
Before restoration: Cupola on roof, milk house attached at left corner, silo attached on right side, mechanized trolley carrying manure to a partially collapsed manure house (lower right).
Attached shed on left—since demolished—contained an ice house.
Detached chicken house.

Beams in chicken house feature wood details.
Left side of barn: two horse stalls (note windows), tack room, space for wagons, carriage.
Cupola: Louvers to admit light, weathervane, lightning rod and conducting wire, original yellow paint
Metal stanchions for milking. Mechanized machines and piped-in water. Note manure trench.
Hay storage above milking area. Post and beam construction.
Culvert for cows to access pastures on other side of road; built when highway cut farm in two.
The farm was active until 1953 when owner fell in the barn. In 2005, after years of neglect and the foundation collapsing, repair work done with oak beams.
Silo at rear of barn painted in original color, cedar shake roof on silo, milk house on left
Barn repainted in original colors.